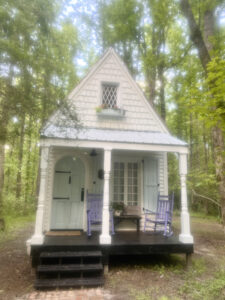 This little slice of whimsy was born from ideas in my head and the skilled patience of Glenn and our talented friend Tyler. Pivoting became natural as they adapted my fanciful finds to fit in a practical manner.
Many of the elements are architectural salvage. The beautiful doors to the bathroom are from France. Salvaged from a tobacco barn, the floors were given a dark stain to mimic an English cottage. Glenn grew up on Rutland Avenue in England, not a cottage but we wanted to honor that. The four sets of French windows were slated for a trash heap until a neighbor stepped in for the aging gentleman that owned them and offered to sell them on Facebook Marketplace. We jetted to Greensboro to purchase them and Tyler and Glenn lovingly restored them. Glenn didn't flinch when I said I'd found old bricks from a farmhouse chimney and set to work slicing them one at a time to create the bathroom floor. So many gems with stories give the space its weathered appeal, we are happy to answer any questions!
Our goal was to create a magical space that begs you to be still and one with nature. We sincerely hope each guest takes away a rested soul and sweet Rutland Cottage memories.